A study conducted by Nissan found out that Japan has 5,000 more green fuel stations than traditional ones - 35,000 gas stations and 40,000 EV charging stations. An important role in this preponderance is played by owners of electric cars who install their own charging stations for private use.

The Government of Japan provides benefits to buyers of electric vehicles, hybrids and other environmentally friendly forms of transport. As a result Japan has so much EV charging stations - even more than in the US, where 9,000 EV charging stations for public use while having 114,500 gas stations at the same time.

According to The Guardian, such information from Nissan study is due to a large number of private outlets for charging used by one person. However, this model will change soon and people will provide their home station on the same principle as renting apartments on Airbnb. Generally, the number EV charging stations is gradually increasing all over the world. According to Bloomberg forecasts, 41 million EV charging stations worldwide to be estimated by 2040.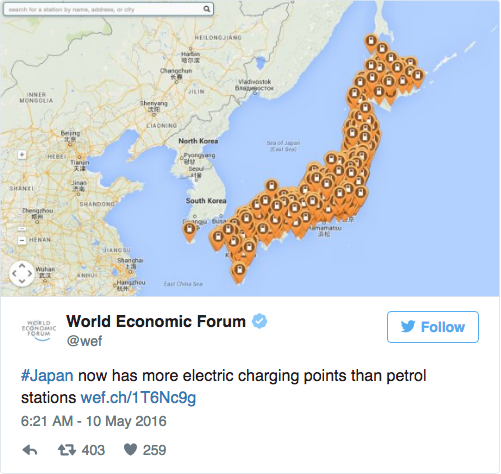 EV Charging Stations in Japan
Source: https://hightech.fm